| | |
| --- | --- |
| Project Title | National round tables for the implementation of the Intelligent Financing of Intelligent Buildings initiative in Slovakia and the Czech Republic – GreenDeal4Buildings |
| Starting Date | June 1, 2021 |
| Duration | 36 months |
| Number of Partners | 9 |
| EU Programme | Horizon 2020: the EU's research and innovation programme |
The energy efficient renovation of Europe's ageing building stock hinges on smart financing. Key to achieve and maintain a higher renewal rate are financial instruments and measures to overcome market failures, skilled workforce with the right skills and affordability of housing for all citizens. Public financing is also crucial to achieve the objectives of the European Green Deal, which should motivate further private investments in energy renovation of buildings. Stakeholders from public and private sectors, particularly innovative small and medium enterprises, have an important role to play in terms of Europe's energy transformation.
The modernization of the built environment requires an integrated approach and consistency across all relevant policies, involving all relevant parties and considering several aspects, including safety, affordability, the environment, and the circular economy. That is why the GreenDeal4Buildings project was created. This project will set up round tables within the EU Horizon 2020 innovation program to implement the smart finance for smart buildings initiative in the Czech Republic and Slovakia. The project will deliver 8 stakeholders' roadmaps and action plans to develop the three pillars of the initiative dedicated to residential and non-residential buildings, industrial buildings, and smart city infrastructure.
The round tables created by the project will be permanent multilateral discussion forums involving government, regional and local authorities, financial institutions, energy service providers and building owners and operators across the energy efficiency value chain and the construction sector. These round tables will analyze the possibility of extending existing European solutions and initiatives that have been successful in other countries of the European Union, develop relevant strategies, roadmaps, and action plans.
Structuring stakeholders' dialogue in Slovakia
The project focuses on sustainable investments in energy solutions in buildings (residential, non-residential, industrial) and urban infrastructure (primarily building on smart buildings and smart cities infrastructure).
A sustainable investment is an investment in one or more economic activities that can be described as environmentally sustainable under Regulation (EU) 2020/852. For the purposes of Article 3 of this Regulation, these are activities which:
Contribute substantially to one or more of the environmental objectives set out in Article 9 in accordance with Articles 10 to 16;
Does not significantly harm any of the environmental objectives set out in Article 9 in accordance with Article 17;
Is carried out in compliance with the minimum safeguards laid down in Article 18; and
Complies with technical screening criteria that have been established by the Commission in accordance with Article 10 (3), 11(3), 12(2), 13(2), 14(2) or 15(2).
Environmental objectives include:
Mitigation of Climate Change;
Adaptation to Climate Change;
Transition to circular economy;
Pollution prevention and control;
Sustainable use and protection of water and marine resources;
Protection and restoration of biodiversity & ecosystems.
These requirements cover the following areas of economic activity, which account for more than 80% of greenhouse gas emissions:
Electricity generation;
Transportation;
Forestry;
Buildings (new, renovation of existing, value chain);
Information and Communication Technologies;
Production and processing of materials (including components, aluminum, steel, concrete and plastics);
Energy efficiency in energy solutions.
These requirements will be further developed and extended to include social sustainability requirements and governance requirements.
The main purpose and consequence of these measures is to redirect investment and financial resources (not only those provided by the European Commission, but also other public and private resources) to sustainable investments.
This redirection will lead to massive transfers of investment and financial resources to competitive regions, sectors and businesses that are able to succeed in sustainable investment. This development will affect businesses in the value chain of buildings and energy solutions, including suppliers of building materials, products, and services.
The Green Deal for Buildings will focus on stakeholders' dialogue to identify possible areas of joint actions aimed at implementing effective measures that would lead to improvement of their competitiveness and exploiting emerging opportunities by Slovak regions and Slovak businesses.
This dialogue will take place in a round table setting to be organized from 31 March 2022 to 31 March 2024. The Green Agreement will consist of four roadmaps focusing on:
Residential buildings;
Non-residential buildings;
Industrial buildings;
Urban infrastructure.
The round table includes expert groups to facilitate expert discussion on the topics in their responsibility, to streamline the dialogue around the round table and to facilitate a more effective discussion on proposals that will be included in the Green Deal for Buildings roadmaps with the support of stakeholders. These working groups will meet in the framework of the round table negotiations. Ad-hoc meetings and workshops will be organized on some topics. All members are welcome to these meetings at their own discretion and as far as their workload allows it. The following expert groups have been set up:
Construction and value chain;
Sustainable energy;
Financing sustainable energy investments.
The stakeholder dialogue within the round table will be structured into clusters that are being created under the responsibility of individual expert groups. Some clusters are cross-cutting and a wider expert discussion will be organized on their topics.
The stakeholder dialogue will be structured into the following cluster groups (each cluster is identified by a code, which is explained below):
E1: Energy positive districts; E2: Consumers in the energy market; E3: Energy Services for Consumers and SMEs; E4: Sustainability of renewable energy and fuel technologies; E5: Legislation and policy instruments.
F1: Platform for financing sustainable green investments and renovation of buildings to the EPB standard; F2: EU taxonomy for sustainable investments and ESG implementation in the private sector; F3: Standardization of evaluation of sustainable investment projects; F4: Reducing the risks of sustainable energy investments; F5: Legislative changes to support sustainable energy solutions.
S1: Support for applied research and innovation development; S2: Supporting SMEs in implementing innovation; S3: Financing of education and training at all levels for the implementation of innovation; S4: Necessary changes in policies and legislative conditions to support innovation; S5: Financing and support of Smart Cities lighthouse projects, smart energy services, integration of energy sectors, new electricity market design and its interconnection with buildings.
FS1: Cooperation in the implementation of ESG and SFDR (Sustainable Finance Disclosure Regulation); ES1: Technical screening criteria for the Regulation (EU) 2020/852; EF1: Financial blending in sustainable energy investments;
These clusters are divided among the expert groups as follows (membership of the group is indicated by a letter in the code and color)
: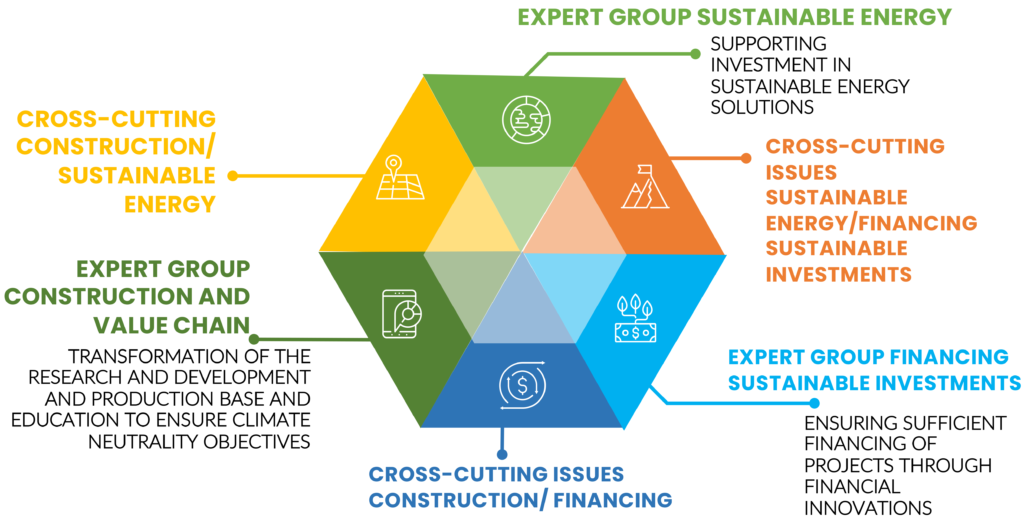 The work of the round table in Slovakia is part of the initiative of the European Commission, which launched the Forum for Sustainable Investments and round tables within all EU member states. Therefore, the round table in Slovakia can benefit from experience in other EU member states and the transfer of know-how of many projects and successful initiatives implemented throughout Europe. For example:
Successful technical solutions;
Successful support solutions and financial innovations;
Small and large regional building renovation projects, construction of new buildings, including affordable social and rental housing.